A Vegetarian's Guide to Interrailing: The Top Ten Restaurants

Interrailing is a hugely exciting experience. Not only can you engage in a month full of culture, exhaustion, awe and wonder, but you can also partake in culinary delights. Being a vegetarian, you could be nervous about what kind of food there is to eat the further east in Europe you go. If this is the case, you will be pleasantly surprised to hear that a vegetarian can eat just as much amazing food as their non-vegetarian travel partners. We take a look at the ten best vegetarian restaurant from Berlin to Venice.
Santa Maria | Berlin
Bar, Diner, Restaurant, German, Mexican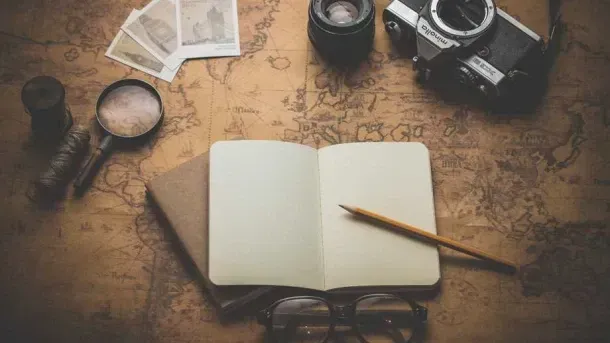 With a fantastic atmosphere,
Santa Maria's
menu includes nachos, burritos, cocktails and much more and is a must when visiting Berlin. Vegetarians everywhere will love the
Verduras Burrito
. Stuffed with lots of vegetables and beans, this is a filling delight. Paying an extra euro for cheese is a must. This option can be applied to quesadillas and
tacos
and is not the only vegetarian treat on the menu. Keep an eye out for the lunch menus and if you find yourself there on a Tuesday, it would be a shame to miss out on Taco Tuesday. Wash it all down with some delicious cocktails or a refreshing corona and enjoy the incredibly vibrant atmosphere of the place in one of
Berlin's hippest districts
.
U Kroka | Prague
Roasted gnocchi with creamy spinach, garlic and crispy green onions with a small fresh salad, fresh bread, cider and wine on the side will only set you back about 11 euros – a true steal if ever there was one. U Kroka is one of the top restaurants in Prague and yet is unassuming and relaxed, despite the utmost quality of the food served. Other vegetarian options include: creamy potato and sheep's cheese gratin with roasted fresh vegetables; pasta with mushroom ragout and white wine, flavored with walnut oil; and a whole host of crispy green salads. Friendly staff, a busy atmosphere and ideally located near Vysehrad, this restaurant certainly merits its high status.U Kroka, Vratislavova 12, Praha 2 – Vyšehrad, Czech Republic, +420 775 905 022
Destinations Unlocked:
Let our travel expert Stefano help you find your perfect Culture trip
Looking for an expert's perspective?
Uncover my top 3 recommended places from each continent on the map.
CentralAmerica
1. Guatemala
An express adventure for those with limited time off. Prepare yourself incredible experiences. You will hike a volcano, visit mayan temples and witness a ceremony and take in beautiful colonial Antigua.
CentralAmerica
2. Belize
A quick trip not too far away for those seeking a relaxing mini break. You will have plenty of free time to relax but also some awesome activities to experience the rainforest and the caribbean sea.
CentralAmerica
3. Mexico
An exciting mini trip exploring the lesser known colonial towns of central Mexico. This is hte perfect trip for someone with limited time off and still wants to turn on explorer mode and do something different.
SouthAmerica
1. Ecuador
A remarkable 8 days adventure through the Andes and the Amazon rainforest. The best choice for adventure seekers wishing to visit the 2 most iconic areas of South America, in only 1 week and no flights.
SouthAmerica
2. Peru
An alternative itinerary to classic Peru, from Cusco to Arequipa. This itinerary is great combination of highlights Cusco and Machu Picchu with the lesser known Arequipa and Colca Canyon.
Europe
1. Italy
The ultimate Italian experience from the vibrant streets of Naples to the breathtaking sceneries of the Amalfi Coast followed by Matera and down to Puglia with its golden beaches, intense flavours and fascinating destinations.
Europe
2. Scotland
Embark on this great adventure starting from London all the way to Scotland with a true Scottish experience made of breathtaking sceneries, whisky tasting and ..lots of fun! Ideal for train lovers and explorers.
Europe
3. Portugal
A wonderful train journey around Portugal, from the romantic city of Porto to the Douro Valley, to the beautiful Aveiro all the way to Lisbon and Sintra. The perfect trip to train, culinary and culture lovers.
Asia
1. South Korea
Discover incredible temples, mountains and modern cities on this 10 day adventure. This trip is perfect for those seeking immersion in the cuisine, culture and natural wonders of South Korea.
Asia
2. Thailand
From Bankgok to Angkor Wat to Ho Chi Minh City and everything in between - adventure through the heart of South-East Asia. Taste the delights, see history brought to life and unwind on a Mekong River cruise.
Asia
3. Sri Lanka
A fantastic adventure that showcases Sri Lanka's fantastic landscapes, wildlife and flavours. With 3 epic rail journeys, 3 UNESCO heritage sites and time to relax, this trip has loads to offer at a great price
Africa
1. Morocco
An epic journey across Morocco: from Casablanca to Marrakech, through the blue city of Chefchaouen to the wonders of the desert and deep to the High Atlas Mountains - this trip has it all! Ideal for true explorers!
Africa
2. Egypt
From Cairo to Aswan, this trip brings the land of the pharaohs to life. You'll visit the Pyramids, Valley of the Kings and Luxor Temple and cruise down the Nile in style. This is the perfect way to explore Egypt.
Café Camelot | Krakow
Café Camelot is a prime example of the fact that you need not spend a lot to eat extraordinarily well. To start, why not try their take on French onion soup? Even better still, the delectable cream of leek soup which tastes like heaven in a bowl. Move onto one of their vegetable tarts served with fresh salad, accompanied by a refreshing raspberry beer, and follow it up with decadent chocolate cake. Camelot offers an extensive menu which caters to everyone's needs. The range of breakfast, lunch and dinner options is remarkable and the list of desserts and hot beverages covers the majority of the menu. The restaurant is in the heart of the gorgeous old town, not far from the main square, and offers all of the quirkiness that one would hope to find in such an area. Café Camelot, Świętego Tomasza 17, Kraków, Poland, +48 12 421 01 23
Top Kino | Vienna
Bar, Restaurant, Dessert, Vegetarian, Salad Bar, Pub Grub, Austrian

Non-descript from the outside, just a simple cinema bar, yet you should not turn your nose up at the food on offer at
Top Kino
. The kitchen offers soups, salads, toasties, pittas, burgers, wraps, warm mains and dessert as well as a full bar. A vegetarian's dream is found in the pita plate, served with houmous, falafel, aubergine and rocket. Simple, yet delicious. Here you will find the artsy types, the independent movie-goers, yet the atmosphere is not unwelcoming and on a nice day, you can enjoy the sunshine in a very relaxed environment.
Gelarto Rosa | Budapest
Gelarto Rosa is clearly not restricted to vegetarians, yet to not mention it would be unthinkable. The unique flower design is what initially draws you in to this small gelateria in Budapest, very near to the impressive cathedral. Not cheap, it is nonetheless worth getting at least two of their exciting flavors, which include: oreo; panna cotta and salted caramel; lavender and white chocolate; banana and dark salted chocolate; lemongrass and basil, and many more. Sit on the cathedral steps or wander around the city and enjoy richness of this ice cream. Gelarto Rosa, Budapest, Szent István tér 3, Hungary, +36 70 930 2217
Café Corso | Belgrade
Phenomenally cheap (not even 2 euros) and delicious, the Serbian take on French toast is a delight. Called prženice and served with paradajz or ajvar (a tomato and pepper sauce), pavlaka or kajmak (sour cream) and feta cheese, this is a brilliant vegetarian breakfast, brunch, or lunch option. Be sure to try some of the natural yogurt that accompanies many of the meals and wash it down with their freshly-made lemonade. This café-bar-restaurant is open well into the early hours of the morning and hosts an extensive cocktail menu as well as salads, meats and pasta dishes. With plenty of seating outside, you can take in the atmosphere of the busy Belgrade street while enjoying the food.
Kava Tava | Zagreb
Cafe, Croatian
The café culture in Zagreb is intoxicating. Somewhere where you can really appreciate this vibe is
Kava Tava
. Bask in the sunshine as you munch on an incredible tomato, mozzarella and rocket layered toastie and people-watch. Most famous perhaps for their pancakes, the management have brought American-style pancakes to Croatia and have not held back. Feast on a huge stack with strawberries, caramel, banana, chocolate sauce and much more, or indulge in a decadent ice cream sundae. Fairly priced, there is something for everyone and for every time of day.
Kava Tava, Ulica Ivana, Tkalčića, Zagreb, Croatia
Cacao, Ljublijana © William Hopcroft
Cacao | Ljublijana
For marvelous ice cream, smoothies and hot chocolate, look no further than Cacao. With a warm atmosphere, this is the place that students can spend hours sipping coffee and reading a book. If you need to cool down on a hot day, go for one of the extensive flavors of ice cream offered both outside and in at this parlor. For a health kick, try a smoothie. For utmost indulgence, try the ice cream hot chocolate – vanilla and chocolate ice cream, in hot chocolate, covered in cream, chocolate sauce and almonds. Cacao, Petkovškovo nabrežje 3, Ljubljana, Slovenia, +386 1 430 17 71
Desideri e Auguri, Da Marino's | Trieste
A little off the beaten track, this is one that comes recommended by locals. With no real menu, the owner explains to you what he can make for you that day upon arrival at the cozy yet not cramped restaurant, where everyone appears to be friends. Despite Marino (the rather eccentric Italian owner) proposing a large plate of meat (which comes highly recommended), mention your vegetarianism and he will whip up special dish of penne, tomato, garlic, aubergine, mozzarella and basil pasta. Name a pasta dish and the chef will make it for you, no questions asked, dependent on the ingredients necessary. Be sure to try the house rosé to really top off your evening spent rubbing shoulders with the locals.
White Parlour | Venice
Ice cream lovers will get very excited about this self-service ice cream parlor, where you pay for the weight of your tub. Choose your ice creams, sauces, toppings, fruits, and sweets. Not cheap, but fitting with Venice prices, this is an exciting treat, different to other ice cream experiences. Fondamenta Zattere al Ponte Longo, 922, Venezia, Italy
By Alice McAnulty
Volcanic Iceland Epic Trip
meet our Local Insider
Hanna
HOW LONG HAVE YOU BEEN A GUIDE?
2 years.
WHAT DO YOU LOVE ABOUT YOUR JOB?
It's the personal contact, the personal experiences. I love meeting people from all over the world... I really like getting to know everyone and feeling like I'm traveling with a group of friends.
WHAT DESTINATION IS ON YOUR TRAVEL BUCKET-LIST?
I have so many places on my list, but I would really lobe to go to Africa. I consider myself an "adventure girl" and Africa feels like the ULTIMATE adventure!
Every CULTURE TRIP Small-group adventure is led by a Local Insider just like Hanna.

KEEN TO EXPLORE THE WORLD?
Connect with like-minded people on our premium trips curated by local insiders and with care for the world
Since you are here, we would like to share our vision for the future of travel - and the direction Culture Trip is moving in.
Culture Trip launched in 2011 with a simple yet passionate mission: to inspire people to go beyond their boundaries and experience what makes a place, its people and its culture special and meaningful — and this is still in our DNA today. We are proud that, for more than a decade, millions like you have trusted our award-winning recommendations by people who deeply understand what makes certain places and communities so special.
Increasingly we believe the world needs more meaningful, real-life connections between curious travellers keen to explore the world in a more responsible way. That is why we have intensively curated a collection of premium small-group trips as an invitation to meet and connect with new, like-minded people for once-in-a-lifetime experiences in three categories: Culture Trips, Rail Trips and Private Trips. Our Trips are suitable for both solo travelers, couples and friends who want to explore the world together.
Culture Trips are deeply immersive 5 to 16 days itineraries, that combine authentic local experiences, exciting activities and 4-5* accommodation to look forward to at the end of each day. Our Rail Trips are our most planet-friendly itineraries that invite you to take the scenic route, relax whilst getting under the skin of a destination. Our Private Trips are fully tailored itineraries, curated by our Travel Experts specifically for you, your friends or your family.
We know that many of you worry about the environmental impact of travel and are looking for ways of expanding horizons in ways that do minimal harm - and may even bring benefits. We are committed to go as far as possible in curating our trips with care for the planet. That is why all of our trips are flightless in destination, fully carbon offset - and we have ambitious plans to be net zero in the very near future.