10 Tips to Escape Tourist Crowds in Paris

In a city as visited as Paris, it's nigh on impossible to avoid tourist crowds completely, especially during the busiest periods of the year and if you want to see the main attractions. Our guide will help you to strategize your sightseeing to maximize your time and minimize your exposure to the worst of the selfie-taking mob.
Visit at the right time of year
First things first, if at all possible, avoid coming to Paris during the high tourist season of July and August. By coming in April or September, for example, you'll halve your competition for seeing the big attractions and double your chances of feeling like a local instead of cattle in a crowd. The winter is also a good time to visit if you're on a budget as hotel prices are usually a little lower. For more advice on when's best to visit the capital, check out our month-by-month guide.
Destinations Unlocked:
Let our travel expert Stefano help you find your perfect Culture trip
Looking for an expert's perspective?
Uncover my top 3 recommended places from each continent on the map.
CentralAmerica
1. Guatemala
An express adventure for those with limited time off. Prepare yourself incredible experiences. You will hike a volcano, visit mayan temples and witness a ceremony and take in beautiful colonial Antigua.
CentralAmerica
2. Belize
A quick trip not too far away for those seeking a relaxing mini break. You will have plenty of free time to relax but also some awesome activities to experience the rainforest and the caribbean sea.
CentralAmerica
3. Mexico
An exciting mini trip exploring the lesser known colonial towns of central Mexico. This is hte perfect trip for someone with limited time off and still wants to turn on explorer mode and do something different.
SouthAmerica
1. Ecuador
A remarkable 8 days adventure through the Andes and the Amazon rainforest. The best choice for adventure seekers wishing to visit the 2 most iconic areas of South America, in only 1 week and no flights.
SouthAmerica
2. Peru
An alternative itinerary to classic Peru, from Cusco to Arequipa. This itinerary is great combination of highlights Cusco and Machu Picchu with the lesser known Arequipa and Colca Canyon.
Europe
1. Italy
The ultimate Italian experience from the vibrant streets of Naples to the breathtaking sceneries of the Amalfi Coast followed by Matera and down to Puglia with its golden beaches, intense flavours and fascinating destinations.
Europe
2. Scotland
Embark on this great adventure starting from London all the way to Scotland with a true Scottish experience made of breathtaking sceneries, whisky tasting and ..lots of fun! Ideal for train lovers and explorers.
Europe
3. Portugal
A wonderful train journey around Portugal, from the romantic city of Porto to the Douro Valley, to the beautiful Aveiro all the way to Lisbon and Sintra. The perfect trip to train, culinary and culture lovers.
Asia
1. South Korea
Discover incredible temples, mountains and modern cities on this 10 day adventure. This trip is perfect for those seeking immersion in the cuisine, culture and natural wonders of South Korea.
Asia
2. Thailand
From Bankgok to Angkor Wat to Ho Chi Minh City and everything in between - adventure through the heart of South-East Asia. Taste the delights, see history brought to life and unwind on a Mekong River cruise.
Asia
3. Sri Lanka
A fantastic adventure that showcases Sri Lanka's fantastic landscapes, wildlife and flavours. With 3 epic rail journeys, 3 UNESCO heritage sites and time to relax, this trip has loads to offer at a great price
Africa
1. Morocco
An epic journey across Morocco: from Casablanca to Marrakech, through the blue city of Chefchaouen to the wonders of the desert and deep to the High Atlas Mountains - this trip has it all! Ideal for true explorers!
Africa
2. Egypt
From Cairo to Aswan, this trip brings the land of the pharaohs to life. You'll visit the Pyramids, Valley of the Kings and Luxor Temple and cruise down the Nile in style. This is the perfect way to explore Egypt.

Pick the best day for each monument and museum
Historical Landmark, Building, Museum, Park

Most monuments and all museums
close for one day per week – it goes without saying that you should always double check opening dates
and times
as part of your holiday planning – and this has a knock-on effect for the rest of the week. Take
Versailles
, for instance: it's closed on Mondays and so is unusually busy on Tuesdays. As well as a bump in numbers on the days before and after closure, you can expect larger crowds at the weekend. Thursdays are your best bet for a mob-free museum day.
Get up and out early
Now, if you've read this far and thought, '[Insert regionally-specific expletive], I've just booked a weekend break to Paris in the middle of August and all I wanted to do was visit museums and climb up monuments,' then don't panic: there are still a couple of things you can do to make the most of your trip. The first is the oldest trick in the traveler's book: wake up early and beat the crowds. If there's no way you'll be jumping out of bed with the dawn chorus after a night on the pinot, then try your luck with late openings.

Buy your tickets online
Park
Secondly, you can cut down massively on wait, and by extension crowd, time by buying tickets online. The longest lines of all can be found at the
Eiffel Tower
. You can
buy tickets
up to two months in advance and this grants you access to the much shorter 'Visitor with Tickets' line. The only downside is that you are then committed to a specific date and time and so if the weather's not great you could be going up to see grey clouds and not much else. For more tips, check out our
11 essential Eiffel Tower hacks
.
Avoid major tour companies
While signing up for a bus tour or Seine cruise may hold the promise of ticking off a long list of landmarks in one foot-friendly ride, the reality is usually less pleasurable: the guide turns out to be a bilingual bore, plumes of exhaust fumes blur your vision and wipe a few months off your life expectancy, and, about five minutes into the trip, once you've passed under your first bridge, say, you realize you've effectively slapped a giant 'TOURIST' sticker to your forehead. Save yourself the disappointment and book an alternative cultural or subject-specific tour instead.

Stay in the right neighborhood
Obviously, areas to avoid would be those in the immediate vicinity of a big attraction – the 7th arrondissement around the Eiffel Tower, for example, is particularly popular with the (unironically) fanny-packed variety of American tourist as is the 8th around the Arc de Triomphe. It can even be overwhelming staying in lively districts like Montmartre or Bastille if you are doing lots of sightseeing elsewhere during the day. Head to one of these other lesser-known and way cooler neighborhoods instead. Another trick for avoiding fellow visitors is opting for an Airbnb (while you still can) over a hotel or hostel.
Extend your stay for as long as possible
In an ideal world, we might all pack up our lives and move indefinitely to an attic overlooking the Seine to pursue our literary or artistic ambitions, while slowing sinking into the luxuriantly laidback lifestyle that only the French have managed to finesse. In reality, most of us can only find two nights to indulge in a bit of Parisian joie de vivre. Four nights is probably the minimum you need to see the sights while still having time to explore the quieter quarters but our guides will help you make the most of 12, 24, 48, or 72 hours.

Be content with admiring the big five from afar
If you really can't suffer being around a lot of people and you're in Paris during one the busier times of the year then just forget going up or inside the Eiffel Tower, Notre-Dame, the Sacré-Cœur, the Arc de Triomphe, and the Louvre. With the exception of the last of these, there's just as much to appreciate on the outside as there is on the inside. To kill all five birds with one stone you can go up the Tour Montparnasse and take advantage of its 360-degree rooftop terrace.
Check out lesser-known attractions
Church, Cathedral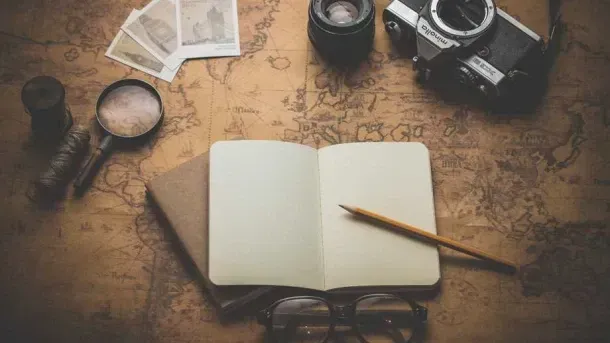 For every attraction in Paris that more than a million people visit every year, there's an equally fascinating monument that practically no one knows about and that you'll never have to fight the hoards to get in. These lesser-known architectural treasures include the Institut du Monde Arabe, a great alternative to the Centre Pompidou, and the Basilique de Saint-Denis, which is packed with all the kings and queens of French history and a fraction of the crowds you'll find at Notre-Dame.
Explore areas where there is 'nothing' going on
The last point on our list is something that every visitor to Paris should do, regardless of their partiality to crowds: get well off the beaten path and discover micro-neighborhoods where there aren't any star attractions but plenty of hidden gems. These 12 offbeat spots are a great place to start your exploration. Another great way to discover the unexpected is to look at a map of Paris, pick a far-flung metro station (perhaps even one in the suburbs) whose name you like the sound of, go there, and wander around until you stumble across something interesting, which probably won't take you too long at all.
Volcanic Iceland Epic Trip
meet our Local Insider
Hanna
HOW LONG HAVE YOU BEEN A GUIDE?
2 years.
WHAT DO YOU LOVE ABOUT YOUR JOB?
It's the personal contact, the personal experiences. I love meeting people from all over the world... I really like getting to know everyone and feeling like I'm traveling with a group of friends.
WHAT DESTINATION IS ON YOUR TRAVEL BUCKET-LIST?
I have so many places on my list, but I would really lobe to go to Africa. I consider myself an "adventure girl" and Africa feels like the ULTIMATE adventure!
Every CULTURE TRIP Small-group adventure is led by a Local Insider just like Hanna.

KEEN TO EXPLORE THE WORLD?
Connect with like-minded people on our premium trips curated by local insiders and with care for the world
Since you are here, we would like to share our vision for the future of travel - and the direction Culture Trip is moving in.
Culture Trip launched in 2011 with a simple yet passionate mission: to inspire people to go beyond their boundaries and experience what makes a place, its people and its culture special and meaningful — and this is still in our DNA today. We are proud that, for more than a decade, millions like you have trusted our award-winning recommendations by people who deeply understand what makes certain places and communities so special.
Increasingly we believe the world needs more meaningful, real-life connections between curious travellers keen to explore the world in a more responsible way. That is why we have intensively curated a collection of premium small-group trips as an invitation to meet and connect with new, like-minded people for once-in-a-lifetime experiences in three categories: Culture Trips, Rail Trips and Private Trips. Our Trips are suitable for both solo travelers, couples and friends who want to explore the world together.
Culture Trips are deeply immersive 5 to 16 days itineraries, that combine authentic local experiences, exciting activities and 4-5* accommodation to look forward to at the end of each day. Our Rail Trips are our most planet-friendly itineraries that invite you to take the scenic route, relax whilst getting under the skin of a destination. Our Private Trips are fully tailored itineraries, curated by our Travel Experts specifically for you, your friends or your family.
We know that many of you worry about the environmental impact of travel and are looking for ways of expanding horizons in ways that do minimal harm - and may even bring benefits. We are committed to go as far as possible in curating our trips with care for the planet. That is why all of our trips are flightless in destination, fully carbon offset - and we have ambitious plans to be net zero in the very near future.