10 Ways To Immerse Yourself In The Paris Fashion Scene

Paris, one of the fashion capitals of the world and although Parisian fashion seems overwhelming and unattainable, it is more accessible than you may think. We're here to show you how to immerse yourself in the city's scene.
Spot Celebrities At Paris Fashion Week
Make the most of being in one the the four fashion capitals by planning your visit during one of the Fashion Weeks that take place in Paris. Showcasing collections from the most recognized brands and fashion houses from across the globe, these events are renowned by amateurs and serious fashion enthusiasts alike. While show tickets themselves are hard to come by, hang out by any of the catwalk locations and check out what different celebrities, models and bloggers are wearing to this tremendously chic event.
Destinations Unlocked:
Let our travel expert Stefano help you find your perfect Culture trip
Looking for an expert's perspective?
Uncover my top 3 recommended places from each continent on the map.
CentralAmerica
1. Guatemala
An express adventure for those with limited time off. Prepare yourself incredible experiences. You will hike a volcano, visit mayan temples and witness a ceremony and take in beautiful colonial Antigua.
CentralAmerica
2. Belize
A quick trip not too far away for those seeking a relaxing mini break. You will have plenty of free time to relax but also some awesome activities to experience the rainforest and the caribbean sea.
CentralAmerica
3. Mexico
An exciting mini trip exploring the lesser known colonial towns of central Mexico. This is hte perfect trip for someone with limited time off and still wants to turn on explorer mode and do something different.
SouthAmerica
1. Ecuador
A remarkable 8 days adventure through the Andes and the Amazon rainforest. The best choice for adventure seekers wishing to visit the 2 most iconic areas of South America, in only 1 week and no flights.
SouthAmerica
2. Peru
An alternative itinerary to classic Peru, from Cusco to Arequipa. This itinerary is great combination of highlights Cusco and Machu Picchu with the lesser known Arequipa and Colca Canyon.
Europe
1. Italy
The ultimate Italian experience from the vibrant streets of Naples to the breathtaking sceneries of the Amalfi Coast followed by Matera and down to Puglia with its golden beaches, intense flavours and fascinating destinations.
Europe
2. Scotland
Embark on this great adventure starting from London all the way to Scotland with a true Scottish experience made of breathtaking sceneries, whisky tasting and ..lots of fun! Ideal for train lovers and explorers.
Europe
3. Portugal
A wonderful train journey around Portugal, from the romantic city of Porto to the Douro Valley, to the beautiful Aveiro all the way to Lisbon and Sintra. The perfect trip to train, culinary and culture lovers.
Asia
1. South Korea
Discover incredible temples, mountains and modern cities on this 10 day adventure. This trip is perfect for those seeking immersion in the cuisine, culture and natural wonders of South Korea.
Asia
2. Thailand
From Bankgok to Angkor Wat to Ho Chi Minh City and everything in between - adventure through the heart of South-East Asia. Taste the delights, see history brought to life and unwind on a Mekong River cruise.
Asia
3. Sri Lanka
A fantastic adventure that showcases Sri Lanka's fantastic landscapes, wildlife and flavours. With 3 epic rail journeys, 3 UNESCO heritage sites and time to relax, this trip has loads to offer at a great price
Africa
1. Morocco
An epic journey across Morocco: from Casablanca to Marrakech, through the blue city of Chefchaouen to the wonders of the desert and deep to the High Atlas Mountains - this trip has it all! Ideal for true explorers!
Africa
2. Egypt
From Cairo to Aswan, this trip brings the land of the pharaohs to life. You'll visit the Pyramids, Valley of the Kings and Luxor Temple and cruise down the Nile in style. This is the perfect way to explore Egypt.

Time Travel At a Vintage Shop
Paris is home to some of the best vintage shops in the world. Whether you identify with the 'roaring' 1920s or prefer the 'swinging' 1960s, there is no better place to learn about the history of Paris' fashion scene than by browsing garments from generations gone by. Depending on where you go, you'll find everything from one-off, iconic statement handbags to handmade, cotton summer dresses in faded pastels.

Sip Coffee And People Watch
Why do you think there are so many cafes around Paris? Cafes are the perfect place to people watch, so seat yourself on the terrace of a centrally located cafe and enjoy as your own personal fashion show walks past you. Go to the 1st if you're after high heels and high fashion, and for laid-back hipster looks, Canal St. Martin is always a safe bet. This is the best way to catch a glimpse of Paris' fashion scene first-hand and will provide some inspiration for your next shopping spree!

Start With The Basics At Marché St. Pierre
Market, Store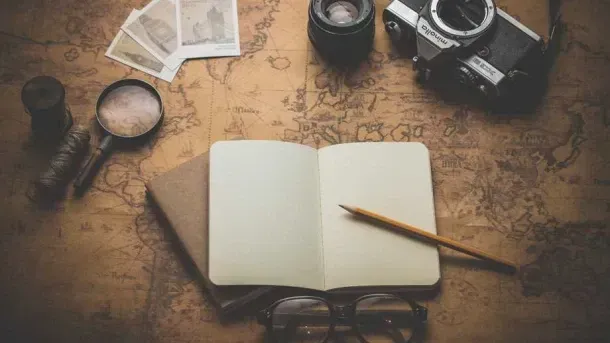 Marché St. Pierre
is one of the most impressive textile markets around. Parisians rely on its impressive stock and use it to create some of their most uniquely chic statement pieces. It's always best to start with the basics, so Marché St. Pierre is the ideal place to get a glimpse of the process behind fabulous Parisian clothing. With thousands of fabrics, from bargain bin synthetics to plush, thick tweeds, don't be surprised if you find your inner fashion designer buying yards upon yards of incredible fabric.
Get Educated With Books/Films
France is where many of the world's most famous fashion designers got their start, including Coco Chanel, Louis Vuitton, and Jean-Paul Gaultier. Specifically, Paris was home to all of these designers' first creations. Over the years, these names have influenced and inspired generations, pushed boundaries, and challenged closely-held views. These people are the brains behind the Paris fashion scene we see today, so delving into their past is the best way to get inspired, involved and educated about the history of Paris fashion.

Follow Bloggers On Social Media
Fashion bloggers have thousands of loyal followers for good reason — not only are they exquisitely dressed, but they get to attend all sorts of fashion events the rest of us can only dream of. While clicking on that follow button sadly won't get us instant access to their inner circle, it does give us the power to follow in their footsteps as they share their knowledge of Paris' fashion scene. Follow Daphne Mode And The City, Elsa Muse, and Dressing Lee Loo to start, and get inspired.

Go Window Shopping
The window displays in Paris will have you so head-over-heels in love that you may just consider partaking in a bit of daylight robbery — particularly if you're on the regal Rue St. Honoré, which showcases boutique after boutique of designer treasures. From silky, strappy stiletto sandals to funky, fluorescent fur accessories, Paris' shop windows will tell you all you need to know about this city's fashion, and even if you can't afford the stuff on show, imagining never did anyone any harm!
Admire Up-Close At a Fashion Exhibition
Paris showcases some of the world's best fashion exhibitions in its beautiful museums, so it's always worth seeing what's on when you're in town. Musée des Arts Décoratifs houses all manner of creative, temporary exhibitions — from the Creation of Barbie to The History of Buttons, there is always something for everyone. Palais Galliera is Paris' main fashion museum and has hosted collections by fashion houses like Lanvin in the past.

Go Shopping At A Dépôt-Vente
If you're bored of looking and want to buy a fashionable treasure, you can buy big and pay little at one of the Dépôt-Ventes and take home a garment that is as timeless as your memories of Paris. The Dépôt-Ventes are second-hand shops unlike any others, full of discount designer fashion that have barely been used or worn. These shops are the perfect place to get your hands on a statement, signature, and iconic French piece from a world-renowned fashion house.

Flick Through A French Fashion Magazine
There's something indescribably chic about a coffee in one hand and a fashion mag in the other, and if that wasn't enough of a reason to pick one up, glancing through its glossy pages is one of the easiest and best ways to immerse yourself in Paris' culture and fashion. Vogue and ELLE were both founded in France and feature the most up-and-coming looks around. These publications have incredible reputations, so they should be your go-to source for fashion advice and inspiration.

Volcanic Iceland Epic Trip
meet our Local Insider
Hanna
HOW LONG HAVE YOU BEEN A GUIDE?
2 years.
WHAT DO YOU LOVE ABOUT YOUR JOB?
It's the personal contact, the personal experiences. I love meeting people from all over the world... I really like getting to know everyone and feeling like I'm traveling with a group of friends.
WHAT DESTINATION IS ON YOUR TRAVEL BUCKET-LIST?
I have so many places on my list, but I would really lobe to go to Africa. I consider myself an "adventure girl" and Africa feels like the ULTIMATE adventure!
Every CULTURE TRIP Small-group adventure is led by a Local Insider just like Hanna.

KEEN TO EXPLORE THE WORLD?
Connect with like-minded people on our premium trips curated by local insiders and with care for the world
Since you are here, we would like to share our vision for the future of travel - and the direction Culture Trip is moving in.
Culture Trip launched in 2011 with a simple yet passionate mission: to inspire people to go beyond their boundaries and experience what makes a place, its people and its culture special and meaningful — and this is still in our DNA today. We are proud that, for more than a decade, millions like you have trusted our award-winning recommendations by people who deeply understand what makes certain places and communities so special.
Increasingly we believe the world needs more meaningful, real-life connections between curious travellers keen to explore the world in a more responsible way. That is why we have intensively curated a collection of premium small-group trips as an invitation to meet and connect with new, like-minded people for once-in-a-lifetime experiences in three categories: Culture Trips, Rail Trips and Private Trips. Our Trips are suitable for both solo travelers, couples and friends who want to explore the world together.
Culture Trips are deeply immersive 5 to 16 days itineraries, that combine authentic local experiences, exciting activities and 4-5* accommodation to look forward to at the end of each day. Our Rail Trips are our most planet-friendly itineraries that invite you to take the scenic route, relax whilst getting under the skin of a destination. Our Private Trips are fully tailored itineraries, curated by our Travel Experts specifically for you, your friends or your family.
We know that many of you worry about the environmental impact of travel and are looking for ways of expanding horizons in ways that do minimal harm - and may even bring benefits. We are committed to go as far as possible in curating our trips with care for the planet. That is why all of our trips are flightless in destination, fully carbon offset - and we have ambitious plans to be net zero in the very near future.