On the evening of Aug. 28, the biggest names in music — along with a chunk of sports, movie, and comedy stars — filed into Madison Square Garden in New York City for the 2016 MTV Video Music Awards. Essentially a recap of the past year's pop culture and social media trends exploding in your face for three hours, the 33rd annual VMAs was filled with mostly lackluster performances, a digestible amount of shocks, #blackgirlmagic, and the occasional award. Let's look back at a few of the evening's best, worst, and most baffling moments.
---
BEST: Beyoncé's Lemonade performance
Beyoncé led the evening with 11 "Moonman" nominations, taking home eight, including Video of the Year, Best Female Video, and Breakthrough Long Form Video, surpassing Madonna as the most decorated VMAs artist with 24 trophies in total. Despite this accomplishment, Beyoncé's performance was the true champion of the evening. Bringing her Formation World Tour to the VMAs stage, Beyoncé presented a number of tracks from her new album, Lemonade, including "Pray You Catch Me," "Hold Up," "Sorry," "Don't Hurt Yourself," and "Formation." Along with her always-fierce choreography – Beyoncé smashed a camera with an aluminum bat – there were some fantastic tracking shots, and she literally lit the stage on fire. The only problem was that Beyoncé's performance came so early in the show, everything after it felt, well, amateur.
WORST: Just about everyone else's performances
It's hard to compete with Beyoncé, but besides Rihanna, who delivered an impressive career-spanning medley in four segments, and Future, whose performance was decidely neutral, the rest of the artists to take the stage at this year's VMAs fell flat. Ariana Grande's soul cycle class left her struggling to breathe, nonetheless sing (to be fair, hitting notes while hitting the gym is impressive) and Nicki Minaj's appearance felt like it was stripped of purpose. The Chainsmokers' rendition of "Closer" was cheapened by lack of any visual appeal and Nick Jonas proved that going to a diner is about as exciting as Ansel Elgort made it sound. However, the worst performance of the night goes to Britney Spears and G-Eazy. Albeit better than her last VMAs performance in 2007, Spears still doesn't care to even appear like she isn't lip-syncing her way through her new track, "Make Me." Basically, G-Eazy did his best creepy guy at the club impression, Spears' awkwardly grabbed his crotch (we'll get back to that), and then she denied his kiss, so it was pretty weird.
BAFFLING: Kanye West's "Fade" video premier
When it comes to public speaking, Kanye's level of unpreparedness is always impressive. Using his four (more like 15) minutes of freedom to chat about the typical Kanye stuff — Kim, Steve Jobs, etc. — it all ended with the premiere of his new video for "Fade." The majority of the video features artist and actress Teyana Taylor doing her best Flashdance impression in a gymnasium filled with workout equipment. Then the video escalates the soft porn-level to torso-shot shower sex, fiancé and Cleveland Cavaliers shooting guard Iman Shumpert joining Taylor. For the final five or so seconds of the video, we return to gym, and Taylor is now a cat-human hybrid, surrounded by a flock of sheep.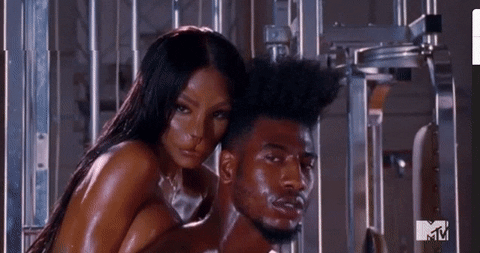 BEST: Female power
Twitter was filled with #blackgirlmagic following Beyoncé and Rihanna's performances, but, in general, last night was all about the ladies taking charge. Alicia Keys chose not to wear any makeup, and provided a brief, but powerful tribute to the 53rd anniversary of Martin Luther King Jr.'s "I Have a Dream" speech. Serena Williams and the U.S. women's gymnastics team, minus Gabby Douglas, all presented awards. At the end of her performance, Beyoncé's dancers pulled off some nifty stage synchronized swimming that formed into the female sex symbol (♀).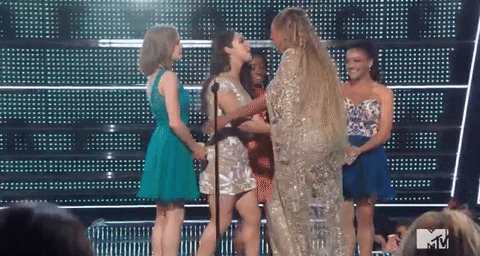 WORST: No host
Without a designated host, the commentary in-between performances and the few awards that were announced in the show's three-hour run largely shifted between comedy duo Keegan-Michael Key and Jordan Peele, Jay Pharaoh, DJ Khaled, and Nicole Byer, and the whole thing was sloppy. Key and Peele's exaggerated social media personalities — aka @theshamester and @lizardsheeple — felt constrained and got old quickly. Pharaoh's impressions of Oprah in the stands and Jay Z in the bathroom line missed the mark, although his concession stand Kevin Hart was great if only for the line "me and the Rock have 20 movies coming out this year!" DJ Khaled proved he's best enjoyed in Snapchat's 10-second installments, and Byer basically just freaked out about meeting a bunch of celebrities back stage. Each had their moments of laughter, but their approaches were too scattered. Sure, you can have a bad host, but at least there's some consistency.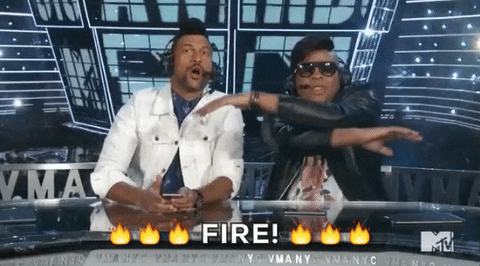 BAFFLING: All the crotch action
Seriously, what was with all of the crotch action? Rihanna's first installment featured some geometric crotch-signaling moves — let's call it the box box step — but, really, it was expected. At the conclusion of Ariana Grande and Nicki Minaj's "Side to Side," the two pushed down the heads of their male counterparts right to their crotches, and oral sex was unmistakably simulated. Thankfully, Key and Peele broke the awkward moment with some "cunning linguist" cracks on Minaj. Then, Spears reached from underneath G-Eazy's legs to grab his crotch, seemingly unsure of where it was at the start. While we all have our opinions on what is appropriate behavior and what isn't, the real shocker here is that this year's theme was crotch.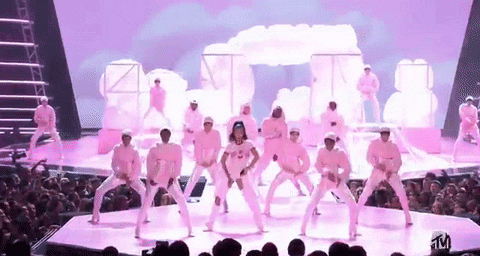 BEST, WORST, BAFFLING: Rihanna denies Drake's kiss
The poor guy tells the world he's loved this girl for years, and then this happens.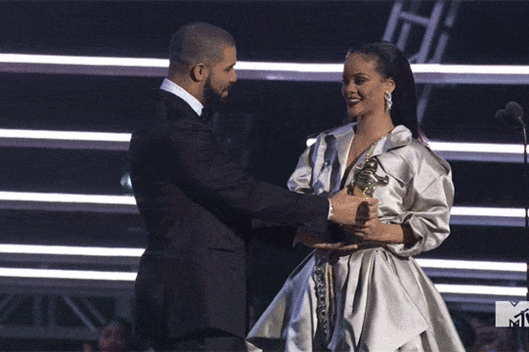 Check out the list of winners at the 2016 VMAs below:
Video of the Year:
Beyoncé "Formation"
Best Female Video:
Beyoncé "Hold Up"
Best Male Video:
Calvin Harris ft. Rihanna "This Is What You Came For"
Best Collaboration:
Fifth Harmony ft. Ty Dolla $ign "Work From Home"
Best Hip-Hop Video:
Drake "Hotline Bling"
Best Pop Video:
Beyoncé "Formation"
Best Rock Video:
twenty one pilots "Heathens"
Best Electronic Video:
Calvin Harris & Disciples "How Deep Is Your Love"
Breakthrough Long Form Video:
Beyoncé: Lemonade
Best New Artist:
DNCE
Best Art Direction:
David Bowie "Blackstar"
Best Choreography:
Beyoncé "Formation"
Best Direction:
Beyoncé "Formation"
Best Cinematography:
Beyoncé "Formation"
Best Editing:
Beyoncé "Formation"
Best Visual Effects:
Coldplay "Up&Up"